IDA Calendar 2024
Theme: Waves of Guidance from the beautiful sayings of Rasūlullāh sallallāhu 'alayhi wasallam
The life and teachings of Rasūlullāh sallallāhu 'alayhi wasallam are truly comprehensive that a day will never come when the Muslims will not be able to find a solution through them to any issue they encounter. Guidance can be found in his teachings on every subject matter. And if we follow these beautiful teachings, we will become successful in both worlds
Along with photos of the coastline from around the world, IDA's 2024 Islamic calendar includes selected sayings of our Beloved Nabī sallallāhu 'alayhi wasallam.
Buy as a gift for family and friends.
Final postage and packing cost will be calculated upon checkout.
Free collection is also available upon checkout. If you select this option then please text 07745 315 613 with your full name to arrange a time for collection from the IDA, Leicester.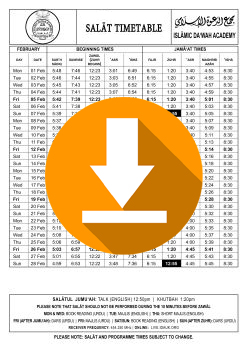 November Salah Timetable
Introduction to Islāmic Da'wah Academy
The Islāmic Da'wah Academy, commonly known as the IDA, was founded to facilitate a greater understanding and awareness of the teachings of Islam. It aims to educate people from all walks of life, and especially young Muslims, in all aspects of their religious development. Since its inception in 1991, the IDA has grown into an internationally recognised institute of academic excellence and religious revival. Under the guidance of its founder, the respected scholar and lecturer, Shaykh Mawlānā Muhammad Saleem Dhorat hafizahullāh, the IDA has continued to progress to achieve its aim of helping to create the Muslims of tomorrow.
Our Premises